Easy Sign up- Check Schedule, pay online or at studio, no preregistration needed
New student special-2 weeks unlimited yoga ONLY $35.00
Dee Lyon,
Owner Real Life Yoga since 1998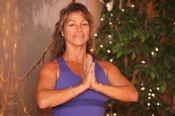 Real Life Yoga for Real Life People
Beautiful,calming,non-competitive atmosphere, A variety of classes for all ages and levels of fitness.Basic beginner classes to all level yogi.Most reasonably priced yoga studio on the south shore.Servicing the yoga community for over 20 years. Professional certified instructors
who encourage you to go at your own pace,with a safe and effective practice.
Sign up is easy,online or at studio,drop-in or take a series.basic beginner, all level and heated yoga.With a consistent practice yoga helps increase flexibility,strengthen core, improve balance,reduce stress, increase breathing capacity,and improves your overall well being.
Parking
plenty of on street parking,School st. and surrounding side streets, parking lot behind Sams restaurant or St. Johns Church back lot
call or text Dee anytime for questions or concerns