2 new specialty classes, no need to sign up, just drop in
Friday Sept 13th- Holy Vinyasa  Yoga
$8.00 drop-in (pay at studio)
Sunday Sept.13th 6:00-7:30PM – Woman's Yoga & The 12 Steps Of Recovery
10.00 suggested donation
Dee Lyon,Owner Real Life Yoga since 1998
,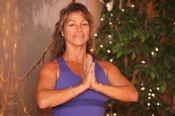 Real Life Yoga for Real Life People
Servicing the yoga community for over 20 years. Professional certified instructors
who encourage you to go at your own pace ,with a safe and effective  practice.
Sign up is easy,online or at studio,drop-in or take a series.
Relaxing, non-competitive atmosphere,basic beginner, all level and heated yoga
With a  consistent practice yoga helps, increase flexibility,strengthen core, improve balance,reduce stress, bring mind fullness,increase breathing capacity,and improves your overall well being.
Sign up
-Check Schedule, pay online or at studio,no preregistration needed

New student special
,2 weeks unlimited yoga only $30.00 (not specialty classes)
Parking
,plenty of on street parking,School st. and surrounding side streets, parking lot behind Sams restaurant or St. Johns Church back lot for a small donation of $1.-2. paid in studio.appreciated but not mandatory.
call or text Dee anytime for questions or concerns