Memorial Day -Holiday schedule update
Classes are on for this Memorial Day,  Mon. 9:30am
NO CLASSES tonight Mon. 6:pm, or 7:15pm
sign up for out newsletter to find out  about ,
New Hot 26 classes, We are heating it up this summer!
with Chris Bopp, Wed. 6:00pm and Lucas Lambert Sat.7:30am
Tracy Tues. Thurs.Fri.7:00am
Beginning  the  first week of June, or call Dee for more info
Dee Lyon,Owner Real Life Yoga since 1998,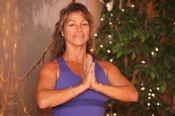 Real Life Yoga for Real Life People
Servicing the yoga community for over 20 years. Professional certified instructors,
who encourage you to go at your own pace ,with a safe and effective  practice.
Sign up is easy,online or at studio,drop-in or take a series.
Relaxing, non-competitive atmosphere, basic beginner and all level classes and hot yoga
With a  consistent practice, yoga will help you to increase flexibility, strengthen core, improve balance,reduce stress, improve breathing capacity, and improve your overall well being.
New student special,2 weeks unlimited yoga only $30.00 (not specialty classes)
specialty classes tai-chi, Laughter Yoga, Hot Power 26 yoga, and beach yoga too
Parking,plenty of on street parking,School st. and surrounding side streets,by chance if you cannot find on street parking, parking lot behind Sams.and St. Johns Church back lot may be used,for a small donation of $1.-2.00 paid in studio.appreciated but not mandatory.
Sign up-Check Schedule, pay online or at studio,no preregistration needed
first come first serve, call or text Dee anytime for questions or concerns